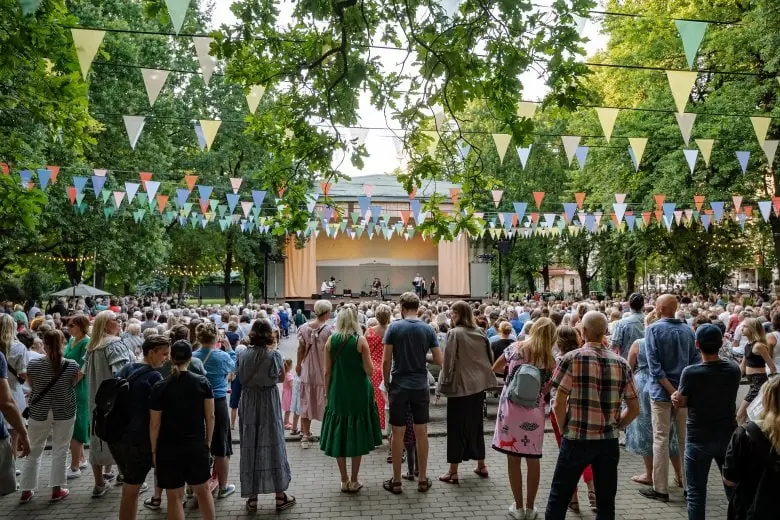 This summer, the Vērmanes Garden stage will come alive with a rich and varied eight-week concert program. Every Thursday evening, Riga residents and guests are invited to gather on the benches in front of the stage and experience the joy and power of being together
28.07. The Tenor Trio will take the stage of Vermanes Garden with the Arrivederci Roma concert program. Charismatic and energetic, recognized by the public and professionals, and owners of wonderful voices - such are the members of the Tenor Trio, LNOB soloists Raimonds Bramanis, Mihails Čuļpajevs and Juris Vizbulis. In the Arrivederci Roma concert program, the artists have chosen to include well known opera music that is very close to them and loved by the listeners, arranged by Andrejs Puškarevs in various musical styles - from classical to jazz.
04.08. Menuets. The group Menuets is one of the most famous Latvian rock bands, which became popular by performing music of the composer Imants Kalniņš. The group's first performance took place in 1968, when six Jūrmala schoolchildren got together, and together with the Sējāns and Bartaševičs brothers, started joint rehearsals in rock music.
11.08. The legend of the Latvian stage - the group Eolika - will perform on the Vērmanes Garden stage with their greatest hits. The musical collective was established in the late 1960s, but gained wider recognition in the 1980s, when its current quartet was formed.
18.08. Concert by Aija Vītoliņa
25.08. Another legend of the Latvian stage - Žoržs Siksna will perform his greatest hits. Žoržs Siksna is a Latvian musician and music teacher.